WP Rentals – Booking Accommodation WordPress Theme
WP Rentals is a WordPress booking platform which allows you to publish & offer listings (properties or objects) for daily or hourly rent. You can allow users to signup and publish their own listings, while you are making a commission for each submission or for each confirmed booking.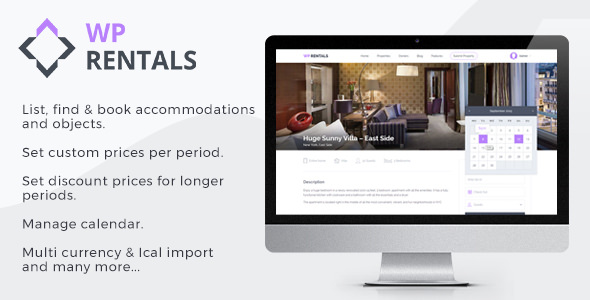 Each listing supports: a default price per night (or per hour), a different price per night for bookings over 7 days (or custom price per hour for over 7h booking), a different price per night for bookings over 30 days (or a different price per hour for over 30h), a different price per night (or hour) for weekend days, minimum booking days (or hours), price for extra guest, cleaning and city fee (with option to calculate these by night, by guest or by guest and night), security deposit, taxes value, early bird discount in % for bookings made in advance, and more.
WP Rentals supports hourly booking or daily booking.
Check this demo for hourly booking – https://skirent.wprentals.org/
The theme also supports custom price for custom periods, the option to calculate booking fee by the number of guests and price per guest, and set changeover days (check-in OR check-in and check-out changeover days). All these can be easily tested using the demo account below.
Demo User Access Information
Username = user
Password = 1234
demo website online at https://skirent.wprentals.org/
Source from : https://wprentals.org/
For Details and order install email to : leinad.roy@gmail.com